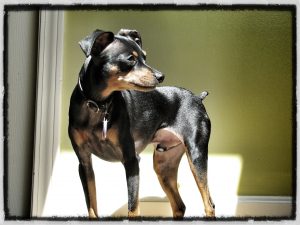 Louie
I got my very first dog Louis (miniature pinscher) five and a half years ago when he was eight weeks old. Living in NYC at the time, with very limited space, I didn't think it was a good idea to get a larger dog, so I started small…very small. I took him to work with me every day. Everyone loved playing with him, feeding him, and spoiling him. We should have gone through training then, but I thought, "He's just so small, how much trouble can he really be?" I didn't realize at the time that collectively, we were all ruining this dog. Everything he did was "just so cute," it was difficult to discipline him. I eventually moved from NYC to Chicago, where I was unable to bring him to work with me or keep an eye on him all day. Behavior that was once "just so cute" became worse, and five and a half years in, I couldn't take it any more. The incessant barking at any foreign noise, instantly going into "attack mode" at the sight or sound of another dog, jumping all over the place while on a leash…I couldn't let it continue. I spent thousands of dollars on training books and manuals, and in-house training for half a year with a local trainer – absolutely nothing was working. Giving Louis up was never an option, so all I could do was keep looking for the right fit. That's when I found Midway Dog Academy. I scheduled training for two weeks. I was skeptical because every training I'd put him through before never produced results. When I went to pick Louis up after two weeks, I couldn't believe that was my dog. I stood there watching in amazement as they took him off his leash and he didn't bolt! Two weeks, and it was like a miracle had taken place. Louis was calm, centered and focused. It's been nearly 6 months since Louis was with Megan and Scott. The training both Louis and I received from them and that has been invaluable. Our lives have been changed in such a positive way; words cannot possibly express our gratitude. That really IS my dog, and I couldn't be prouder.
              -Angela
I adopted a one year old Border Collie/Labrador named Hope. She had lived on the streets for the first six months of her life and then in a shelter for the other six. She had no training at all and like all puppies had more energy for mischief then I could keep up with. Hope, my new mischief maker, was wonderful at soiling indoors, chewing on everything including people, jumping on everything including people and had the idea that it was playtime all the time. I found information on the internet about a board and train school and thought this just might work. Scott and Megan were GREAT! I was leaving for vacation and they were willing to take her a week early to help me out. She was with them over two weeks. When I went to pick her up and learn how to keep up with her training, I brought my mom and sister-in-law with me. We were amazed. She was like a totally different dog. She actually LISTENED! I was in shock. She did everything we asked her to do with the smallest amount of communication. She even listened to me off her leash. After bringing her home, she has continued to amaze me. She has not once soiled indoors since training. She is much better at chewing only her toys. I can take her outside with no leash and she will play in the yard without running off. She walks three miles a day and though she is on a leash, she rarely pulls. She still has LOTS of energy but at least now it's controllable. I no longer stress at bringing her around others. She is a perfect lady. I would recommend Midway Dog Academy to everyone. It's totally worth it!!!
-Terry and Family
I adopted a 105 pound Alaskan malamute in 2005. The dog was the runt of the litter, and as such, possessed a wide range of behavioral issues. We contacted Scott and Megan based on another trainer's recommendation. They were very clear about what I could expect from the training, and what was unobtainable given the breed. I valued this honesty over a lot of trainers I've spoken with claiming they can make any dog into Lassie. I had no desire to "break" my dog, only make both of our lives better by lowering her aggression toward other dogs. They were also very clear that there was no set "program" for every dog, and different dogs will require different attention. As such, Megan and Scott worked with my dog for longer than they originally anticipated (no charge) to get her to a level that we were comfortable with. Their methods, charges, and anticipated results were all very clear up front. I find this to be as important as the end result of the training, which was above and beyond what we thought, could be done. Our quality of life is markedly better. The investment made into my dog has been well worth it, and I recommend at Megan and Scott's training without reservation.
-Chris P.
First of all, let me thank Megan for what a great job she did with my Rottweiler Blu. I went to visit Megan one night and she had her dogs outside with no leashes. I told her she was really brave to do that considering it was dark and she had a Bulldog and Pit bull who LOVE to run. The last time I took my dog off leash he ran away from me at 3am and I ended up chasing him around in my PJs diving to the ground to try and catch him. Now that he is trained, that isn't the case anymore. He can go outside without a leash, go for walks without pulling, and goes on his placeboard when I give him the command. He doesn't run away from me anymore; instead he looks to me for guidance and direction. Thanks again, it makes a HUGE difference!
-Katie and Kevin
Our dog Reilly was having some major problems. She had begun growling at younger children, ignoring commands, and developed an overall nervous and wild demeanor. We thought at this point there was no way to fix her behavior (she had just turned 7 years old). We brought her out to Scott and Megan and she stayed with them for 10 days. It was hard to let her be away from us but upon picking her up we realized we made the best decision in the world for her. She was like a new dog and I am not exaggerating. She finally LOOKED at us when given commands and seemed extremely happy and calm. We had not seen her be like this in almost 2 years. Scott or Megan never once raised his voice with her or got aggressive when giving us a demonstration on some commands to work with her on, which I really liked. They both have a natural way with dogs and are amazing with this craft. I would recommend both of them to anyone who is having any kind of recurring issues with their dogs. Reilly is still doing wonderfully 4 months later and they still check in occasionally with us to see how she is doing. They are also available for support if we have any questions regarding her behavior. They offer a great program geared not only toward the dogs, but their owners as well.
Thanks Again!
-Marge and Jenni
With my busy schedule I did not have the time to properly train my dogs, and Scott and Megan made it possible. I have 2 Bernese Mountain dogs and in only 2 weeks, I was amazed at their progress. Now we can go for a walk instead of them taking me for a walk. It's very impressive! It has been great, and this is just one way that it has made our lives more enjoyable.
Thanks!
-Eric
Megan gives excellent and simplified instruction with love and firmness. Maizy responded immediately to her effective training skills, she's a changed dog and I'm forever grateful! We no longer worry about her running away from us when we open the front door.
Thanks Again!
-Randy and Jessica
When I brought Isis to you she was very unhappy, very high strung and was not capable of understanding any of my commands. Her only interests were chasing squirrels and going on walks where she would pull so hard on the leash it was not fun for either of us. She was fighting with my other dogs and I had no idea how we could keep living like that. It was not fair to her, my other dogs or me and my husband. After 30 days with you she is able to walk off leash in low traffic areas of course, walk with our other dogs' peacefully on leash and obeys the commands you taught me. She is much happier and even likes to sleep in her kennel. She now looks to me for direction where she used to just blindly go anywhere in a panic acting like a bull in a china shop. I am looking forward to sending my other dogs to you after seeing the tremendous change in Isis. I am so grateful for all of your hard work. I wrongly assumed that spoiling my dogs would make them happy. I had to grow up and realize that as their pack leader I have a responsibility to them to add discipline and structure to their lives.
With Gratitude,

-Dr. Shelia
I just wanted to tell you how wonderful your training has been on our pups. When I bought my first puppy, a Labrador retriever, I thought this should be easy. Gabe is so cute and adorable, how can anything go wrong? Boy was I wrong. He quickly became a handful and out of control. My furniture and shoes were the collateral damage. So in desperation, I researched trainers and gratefully, I came across Scott and Megan and Thank goodness!!!
After 2 weeks, Gabe came home on Christmas Eve. You both gave me such a wonderful gift. He came home sweeter than I could have ever imagined.
Since then, I was lucky to find Gabe a companion. Zoe, the cutest little beagle that she is, has filled our home with so much laughter and happiness. Gabe is in love with her and the two are inseparable. I didn't even hesitate to send her over to you guys when she was the appropriate age and I was glad I did. I had no idea beagles were such a stubborn breed. On a hindsight basis, I think Zoe would have been 10 times the challenge that Gabe was. However, because of her training, I never needed to experience that.
I want to thank both of you again. I hope everyone realizes what wonders you guys can do. Gabe and Zoe look forward to visiting you soon.
Kindest,
-Nancy
Sophie, our 3 year old Havanese was a delight…..other than her high pitched uncontrolled barking, constant begging at dinner time, demands to play ball, and basic non-listening. We had created the problems and tolerated them, but it was quickly affecting our enjoyment and pleasure in her. We had spoken with Scott and Megan by phone about our concerns and were impressed with what the Midway Dog Academy program offered. Several months passed and we continued to threaten Sophie with "boot camp" when our patience was tried. It was a huge financial commitment for us and we wanted to make sure that we were making the right decision. Another one of our concerns was that it might change her basic sweet and funny personality. We didn't want to change her other than the "bad" behaviors which had become intolerable.
We contacted Megan and Scott again and scheduled her drop-off date. It was as difficult for us as taking our kids for the first time to sleep away camp. We drove away in our car hoping that we had made the right decision. We were in phone contact with them to get progress updates. Megan had even made up a "Sophie song" that she would sing to her. I have to admit I would even drive by on my way to work hoping to catch a glimpse of her (which I did once) and then had to try and get away before Sophie spotted the car. We really missed her!
The day came to pick her up, and my husband and I were so excited we could hardly wait. We met with Scott first who told us what how the demonstration would go. Then we settled in to watch Megan put Sophie through her paces. She walked her on leash, off leash, placed her, and gave her stay and come commands. We were amazed! Then came the biggest test. Would she greet us without barking and jumping all over us? Scott had warned us this would be the hardest thing for Sophie, but we would work at it till she got it right. She was so excited to see us I thought she would shake her tail right off but did it with barely a sound. She needed to be reminded to place but passed with flying colors. We were thrilled!! Now it was our turn to be schooled in the proper techniques needed to maintain all that Sophie had learned over the last 2 weeks.
It has been many months since Sophie attended MDA. We continue to be amazed and thrilled by the changes in her. We always loved her but now thoroughly enjoy her as well. Family and friends can't believe the change in her behavior. The biggest thing for us is to not fall back into our own bad habits which created the problems we had with her. Knowing that Scott and Megan are there for a "refresher" if we need it is a good feeling. The investment we made was definitely worth it and I would not hesitate to recommend that anyone with a "problem pet" check out Midway Dog Academy.
-Cindy and Phil
Thank you so much for meeting with me today! I was literally crying in the car on the way to see you because I felt like I couldn't handle Roscoe. On the way home, he was a completely different dog for me!! My mom and I stopped at my sister's and he sat on his place board the entire time. Just now I took him out and the dogs were out. He ran right back to that spot by the fence, but I said, "Off" like you said and he never even tried to jump then! I am so happy I met with you today. I learned so much from you. I really appreciate you taking the time to work with myself and Roscoe.
Thank you,
-Jackie and Chris
I bought Kody as a puppy and I saw little things here and there pop up, but I brushed it off as normal puppy behavior. My parents have had Labrador retrievers my whole life and I just thought "Ok, he'll grow out of this."
Well destructive chewing and destroying was always an issue at my condo with Kody, so I've crated him to avoid it. Well, the last straw for me was when he finally broke out of his kennel and I came home to my $2,000 leather sofa shredded…Needless to say I found Megan and let me just say thank goodness! She trained him and helped me understand I wasn't meeting his needs physically or mentally. She trained me afterwards and showed me how to be that leader that he needs. And now, 6 months later, we have a better relationship than we've ever had before. The best part is, I don't have to crate him anymore. He's finally able to be a dog and I can finally relax knowing my dog really is as happy as he can possible be!  Thanks again Megan!
Gratefully,
-Rodger H.
We just wanted to let you know how thrilled we are with how Chelsi's training has gone! Before we dropped her off with you, she was rambunctious, wild, mouthy, and simply said-obnoxious. Yes, we understand she was and is a puppy, but there were no limits, rules, or boundaries with her. If we tried giving her some, she would still continue to do her own thing and ignore us regardless of what we did. So we were most definitely at our wits end with her stubborn behavior; which is why we brought her to you.
Since she's been back home, she has done a complete 180! She came home with manners, respect, and a whole new perspective of who's in charge; which is now us! We couldn't be happier with the way her training went! And we just want to let you know, we recommend you to everyone and anyone! You brought back peace within our house and we no longer need to "fight" her to get her to listen to us anymore!
It's been great what you've done and the fact that you truly do make yourself available to us all the time with phone calls, e-mails, follow-ups, and boarding her whenever we need it! We know when we bring her to you for boarding; she's in safe and loving hands. Chelsi is completely comfortable and makes herself right at home when she stays with you! We've been so lucky to have found a caring person (trainer) like you, you have such a natural connection with dogs (Dan and I even talked about how Chelsi just gravitates to you and your boys Tyson and Bronx when you're around) – again, thank you, we've been very blessed. You treat us like family and we consider you a part of ours too!
All the best!
-Dan and Barb K.
We want to let you know that our Koda is the best trained dog that we have ever had. At four months old we tried obedience school and he wanted nothing to do with it. Koda being a working German shepherd and a large puppy we needed to have him under control and busy enough to wear him out both mentally and physically by the end of the day. You provided us with the best behaved companion. After only spending two weeks with you in your home the change in Koda's behavior was drastic. Not only does he follow all of his basic commands such as: sit, stay, down, and heel. You also incorporated the place command using the place board. This command has greatly benefited us in many aspects. It not only gives him a place to stay on it is also a tool to lower his excitement level and return to a calmer state of mind, which in return gives us a more peaceful and relaxed household environment. There is an obvious change in his overall energy level after the training, he is still the same fun and loving dog that we dropped off however his energy is directed into a more controlled environment, instead of running around spastically he looks to us for direction and approval to do things. Before we brought Koda to your training session he was a good puppy with a lot of energy wanting to play all of the time and follow our commands some of the time when he felt like it. After Koda was trained by you for the two weeks we received Koda back, he was still the fun loving puppy we love, but now looks to us for direction and follows our commands all of the time, making time more enjoyable for both my family and him. It has also allowed us to take him to more places and do more things with him knowing that he will not run off or do something we do not give him approval to do. I guess miracles do happen and thanks to Megan and her training we now have the best dog we could have asked for.
-Jeanie, Tim and Sean S.
My husband and I adopted Shadow last Spring from a shelter that knew nothing about her previous lifestyle. The shelter had done some testing with her to see what she's ok with and what she's not ok with. They told us that she seemed to be not completely comfortable around children, but with some time that she'd be okay.
So we took her home and she did gradually become more comfortable with our 3 children. However, she has never been okay with any other kids coming in or even adults. So my husband and I decided that it was time to find someone who knows how to deal with dogs that are like this.
Shadow spent 2 weeks with Megan doing a board and train. Now, initially we were not crazy about the board and train idea since she already knew her obedience skills. But Megan explained to us in order for her unwanted and unsafe behavior to change that her foundation obedience would also have to be rock solid. She also explained that what we as humans perceive as an occasional pulling on the leash or not listening, is a way that dogs practice and exercise dominance over the owners in a subtle way.
We've had Shadow back home now for over 2 months and she has been WONDERFUL. She gets on her spot ( her place board) when we tell her, there's ZERO pulling on the leash, and we can completely see how she looks to us now for direction. Before, she would get uncomfortable and try to control the situation herself because she didn't think we could do it. And now- it's completely changed! I highly recommend using Megan to help with problems your dog is experiencing. It's taught us so much about Shadow that we never even thought of would be possible!
-Don and Samantha G.
Thank you so much for being our "rock star" puppy trainer for the 10 days that Moose was with you. We learned as much as Moose did! You opened our eyes SO much and showed us HOW to raise the best puppy possible! Thank you again for all the work you did with Moose and thanks a million for spending the time to show us how to continue the balanced lifestyle you showed Moose!
-Karen and Tom B.
Just thought I'd let you know that we had a lot of fun with Duke since he has gotten home from doing the Puppy Program with you. He really learned a lot of useful commands, or I should say that we learned them!! You really have a wonderful, calm way about handling dogs, and it shows. I know Duke loved spending that much time with you, I'm sure he didn't want to leave you or your 2 dogs – Bronx and Tyson. I should also thank you for all the good advise you gave us about dog food, schedules, and toys for him. Since Duke is our first dog we were pretty clueless about everything and it's nice to talk to someone with a lot of experience and knowledge about dogs.
We will continue working with Duke on his commands and all of the other training you provided him and us with. We look forward to boarding him with you when we go to Disney World this fall. I know Duke is looking forward to coming back to his second home!
-Mark and Karen P.
We would like to say thank you very much for helping Mickey become more appropriate around the house and around other dogs. Not just that, but it was also very interesting and educating listening to you explain your reasons and methodology. Ever since then, Mickey has been 100x less aggressive. He used to bite and get crazy and wild around other dogs. And now, after we did the board and train with you – we can ACTUALLY take him to the dog park! It's such a relief to finally be able to see him enjoy being around other dogs! All the techniques you taught were more than helpful whenever Mickey is trying to "test" us when we're at home. It was so wonderful to see how Tyson interacted with Mickey while they played together.
I know I told you before how terrified I was of pit bulls. And after meeting Tyson, I know 100% the stuff I hear is not always true. Before I would get awful anxiety attacks and stiffen up when I was around big dogs, especially pit bulls! When I met Tyson, I didn't feel like that at all. His eyes were soothing and trusting and his energy was calming to me. I don't know how else to explain it other than saying his presence actually relaxed me. You are truly blessed to have a dog like that. Anyone that gets to witness how the two of you interact will see just how special of a bond you both share with one another.
Thank you for all of your help.
-Marge, Matt, and Michael M.
Thank you for the wonderful job you did with training Bentley and teaching our family once Bentley completed his board and train training. You obviously have a great love for what you do; you are skilled in understanding dogs and helping the owners understand them too! We greatly appreciate your patience and enthusiasm in helping us learn Bentley's commands and new life-style training.
You abundantly showered praise, reinforcing not only Bentley's good behavior, but also helping our family excel too. Your instruction was excellent, if Bentley or one of us did not understand your direction you would explain in another manner or show us what to do. You are a natural teacher, and your love and understanding of dogs shines in your teachings and work. Thank you.
Here is a picture of Bentley, we just celebrated Bentley's first birthday this weekend by inviting six dogs from the neighborhood over for a birthday party. I thought the idea rather insane, but Bobby and Liam were very excited about it and planned the entire party. The dogs played musical chairs, maneuvered an obstacle course (your agility training with Bentley came into play here!), freeze dance and knocked a piñata. It was hilarious watching all the dogs trying to sit at the same time when the music stopped in musical chairs!
Hope your summer is going well, Megan.
Thank you again for helping our family better understand and communicate with Bentley.
-Bob, Kelly, Bobby and Liam
My boyfriend and I rescued Bugsy a little over three years ago. His behavior was so bad, that we were concerned we were going to have to give him back up for adoption. Let me give you one example to explain just how bad Bugsy was. He is a 23 lb Boston Terrier. We had left him with a downtown boarding place for dogs for the holiday season three years ago. Just as we landed and walked off the plane I received a message from the owner of the boarding place telling me that my dog was so awful with other dogs, so aggressive and unruly, that she didn't know if she could keep him there. We panicked! And at that moment, my boyfriend and I said, we would have to find a dog trainer that knows how to help rehabilitate dogs that are like Bugsy. And him and I both knew that if nothing could be "fixed", that we would have to give him away. I did some searching on the internet for experienced trainers and found Megan and Scott.
I cannot speak more highly of their training program. Bugsy really did turn into a brand new dog. We went to Megan and Scott almost 3 years ago to the date and Bugsy's behavior is better now than it ever has been. He used to pull on a leash, lunge at other dogs, and bark at them in what sounded like an aggressive abusive tone (while drooling uncontrollably). He now plays in our dog park with no problems, walks right at our feet in a "Heel" command, and even sits in place until we tell him he can get up. Scott and Megan teach you to mentally and physically challenge your dog which ultimately rewards him/her into great behavior.
Just this past winter, we took our dog to Myrtle beach, SC. Bugsy was out on the beach, without a leash, as dogs passed, he'd look to us for approval to approach them and then play very friendly, yet didn't leave our side unless we instructed him to do so! WE LOVE MEGAN AND SCOTT in our house, enough that we stop random dogs on the street with bad behavior and offer the referral — a life changer!!!!
Thank you SO much!
-Rachael R.
My wife and I have always owned Irish Wolfhounds. When we got our most recent one, Quincy, we had no idea nor were we ready for how anxious he'd become. He started with minimal things like whining in the crate and everything slowly progressed into defecating and urinating in the kennel. Then he was terrified of loud noises, then he would pace around the house as soon as someone would touch or grab their keys.
We decided that we needed help since it was obvious he wasn't happy and we were completely overwhelmed and frustrated with his behaviors. Our veterinarian recommended Megan to us. He had quite a few patients (dogs) that had gone through training with her for various behavioral problems: human aggression, dog aggression, anxiety, wild dog's, etc. So we figured we would give it a shot.
We enrolled Quincy in her 2 week board and train program. It was hard not to have him here for that length of time, but she did make it easier by sending us updates on him including videos and pictures of him and his progress. At the end of the 2 weeks, she called and asked if it was ok if she kept him for a few days longer for no additional cost to us. She wanted that little bit of extra time to work with him longer.
When we picked him up, she instructed us how to respond and react to him. She rehabilitated him and TRAINED us. We were the ones encouraging his anxiety! Over a year later, we still cannot believe the transformation that Quincy has done! He was once a nervous, fearful, anxious dog. Now he is this confident, relaxed, happy dog!
Thanks again Megan! You really have blessed us with a completely happy family now!
Sincerely,
-Jim and Gina Y.
I adopted George, a farm collie mix, when he was 3-4 years old. He had been in 4 different families at that point and all of which brought him back to the shelter because of his aggression.
My husband had acquired her business card from a friend at his work who was thrilled with the results he saw in his puppy. So I decided to call her and explain his history and problems. I brought George to her facility for a consultation since he didn't have the "normal" issues or problems. She evaluated him and began explaining some of his body language and behaviors. This was very interesting to me since I never knew or heard of anything like that before. But it actually all made complete sense to me.
Her and I discussed the different training options available for him. And because of the severity of his aggression, I decided to do the 1 month rehabilitation for him. It wasn't cheap by any means, but I loved him so much and had developed a special bond with him, I could not give him up since that would mean he would be put to sleep. When I picked him up the month later, I knew that it was the BEST money I had ever spent! My only wish was that I had found her sooner!
George brings me so much joy even today, 2 years later, and it's because of you that I still have him!
-Terri S.